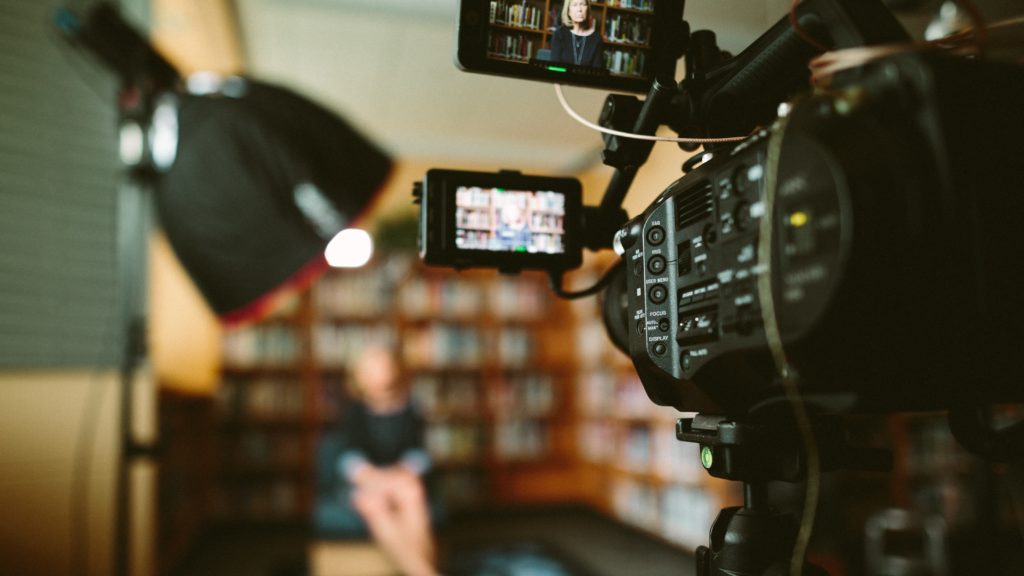 A 2017 survey by Zillow revealed that 75% of real estate sellers expect that a video or some other media will be part of the marketing strategy used to sell their property (Zillow, 2018). This is why we strongly recommend realtors to create videos and post them on YouTube to either showcase their listings or their brand identity.
But what do realtors do with their videos after they have them made? Sharing the videos to social platforms is the number one way realtors can not only get viewers but also leads. Homebuyers love watching videos because they can stay in the comfort of their own home while exploring the inside of a property. 
With today's hustle and bustle, not many homebuyers like to attend open houses because of how time-consuming the process can be. Plus, attending an open house can have a lot of first-time buyers feeling out of place and nervous. This is why the popularity of videos has grown for both buyers and sellers. 
The two most common types of real estate videos are listing videos and market update videos. With the combination of these two videos, realtors can come off as more professional and knowledgeable and thus, intrigue the mind of buyers, increasing their sales and brand.
How to post a real estate video on YouTube
The easiest way for realtors to get their video out to the public once it has been created is to publish it to YouTube. Although this may be deemed as a challenge, posting a video to YouTube has become an extremely straight-forward and easy process.
Downloading from Your Agent Web Profile
The web profile is a FREE alternative to the traditional agent website. In fact, Roomvu agent profile has every important feature that an agent would need if you were to get your own real estate website. You can upload your profile picture, include your tagline, your company logo, and and this is where all your Market Update Videos live in. Sign up to get an account.
Once on your profile, you'll see that your Market Update Video with your branding is automatically uploaded. There is a three dot button on the bottom right corner of the video. Here, you can download* the video.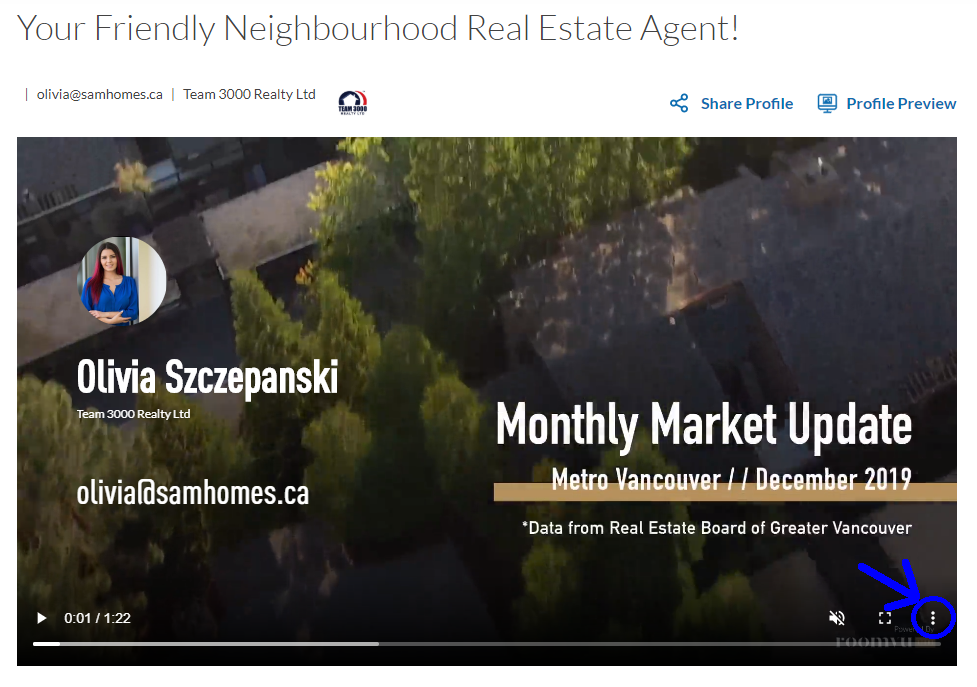 *The download option is free for the first 30 days. After this period, you can keep your profile for free but if you still want to download & share your new updated videos, you'll be asked to subscribe for $19.99/month. 
Here's how to post a video on YouTube:
Now that you have your video downloaded to your device, you are ready to take the next step and upload it to your YouTube channel.
1. Sign up or log in to your YouTube account.
2. Click the video icon on the right-hand side of the page.

3. Then, click 'Upload video'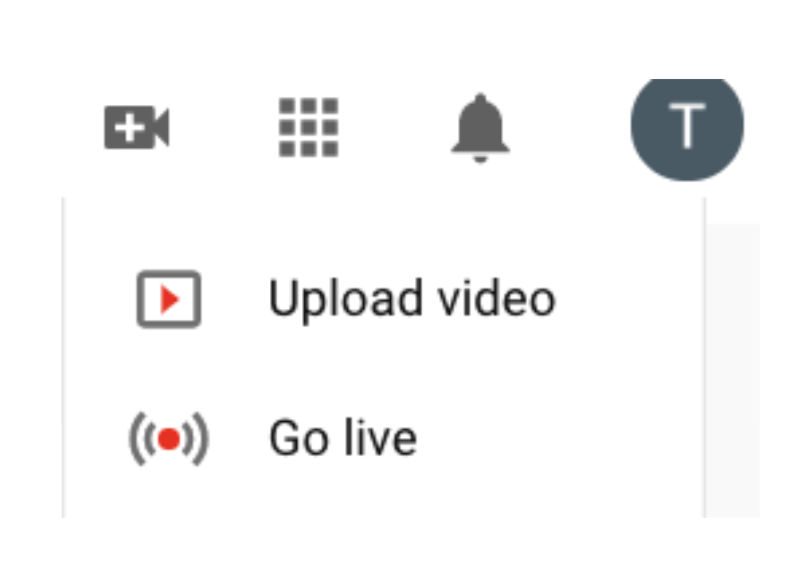 4. Select your real estate video file.
Once the 'Upload Video' pop-up opens click 'select file' which will prompt you to select your market update video from your device's storage.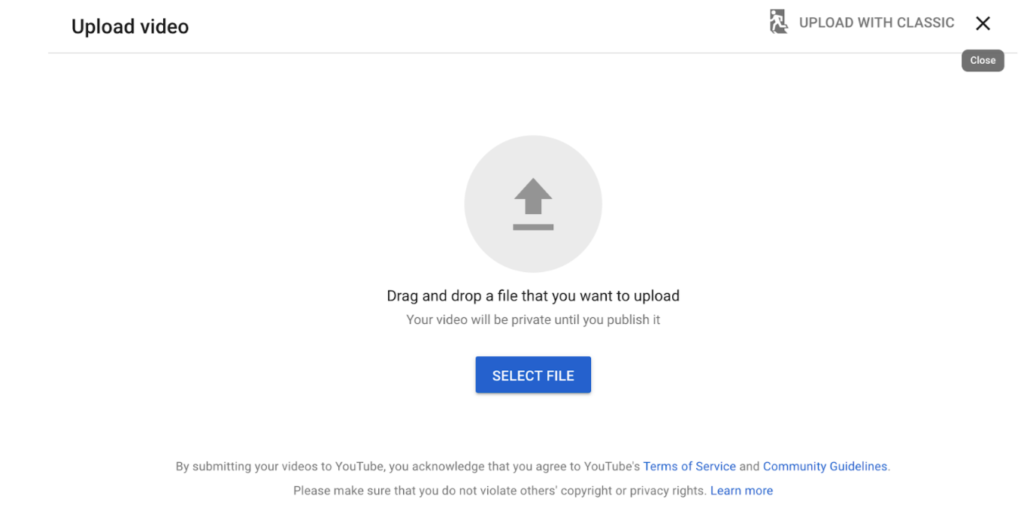 5. Fill in the video details.
Once you upload your market update video, fill in the details such as the title, description, which image you would like to be shown as the thumbnail and more. Once finished click 'next.'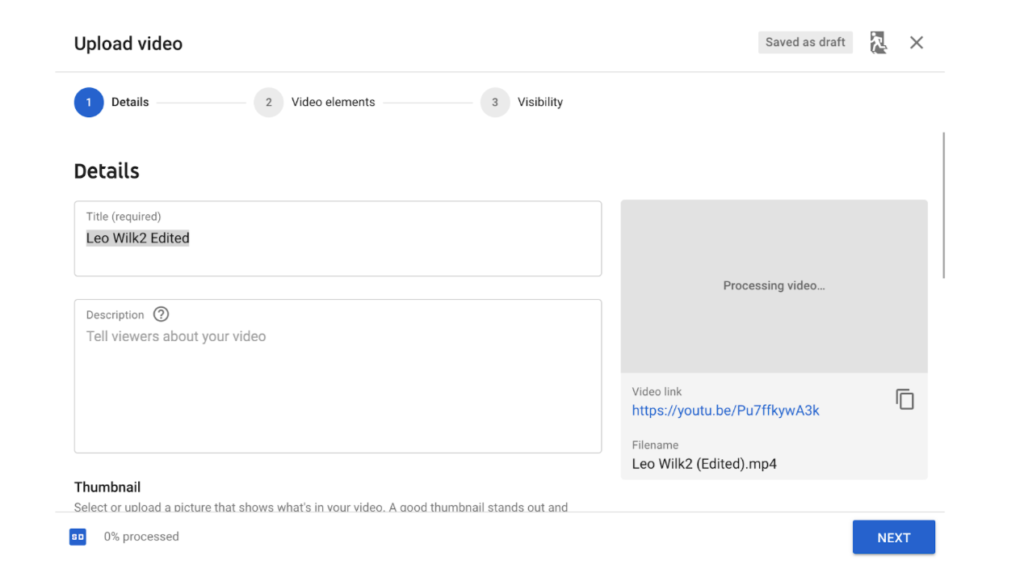 6. Fill in the real estate video elements.
Now, fill in the video elements which include an end screen and the option to promote any other related content at the end of the video. The end screen can be as simple as a static promotional image or as complex as a click-screen which includes buttons and strong call to actions.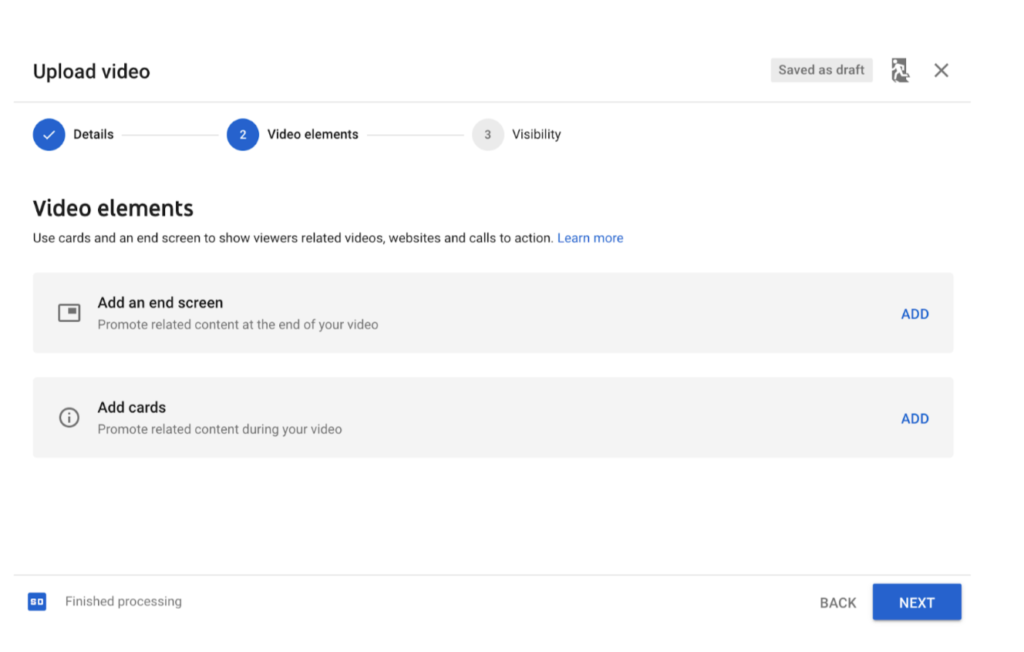 7. Specify your publish date and viewer visibility for your YouTube video.
Lastly, specify who will be able to see your market update video and when you would like your market update video to be published. Once these specifications are all filled in click 'Done' and your market update video will successfully be uploaded to your YouTube Channel.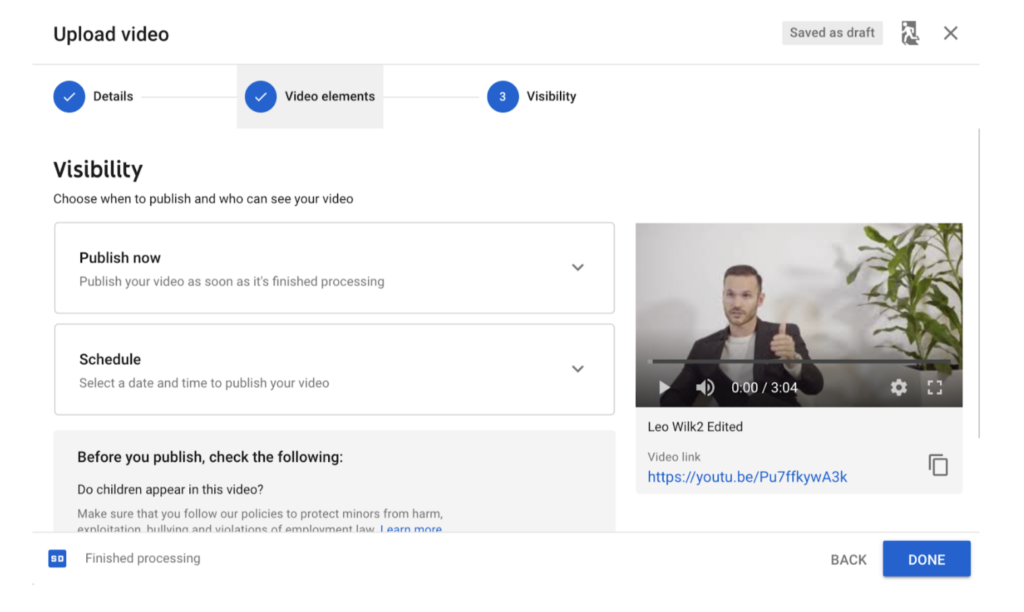 Here is what your market update could look like once posted to YouTube:
Want more real estate related content? Subscribe to our blog.
---
YouTube Real Estate Resources