Engage your clients in the latest changes in your local real estate market for FREE
In this digital age, creating the RIGHT content will enable you to cut through the clutter. Monthly market report videos are designed to engage the real estate audience effectively. 
Roomvu provides you with customized content you need to build credibility and trust. We don't think content creation for social media or any platform has to break the bank that's why we are offering the latest high-quality content with introducing Market Report Videos so you can convert your leads to your clients easier. 
What is Market Report Videos?
Every month, based on the MLS board's report, we create a video branded with your profile picture, brokerage, and contact information. Market report points are presented through engaging & easy-to-consume infographics and animations:
Just note that On-camera market update video is when our expert videographers coach and direct you to present your best self on-camera providing an exclusive & accurate market report for your specific city and area. 
What's in it for the Real Estate Agents?
Stand Out and Generate Leads
Now, it's more affordable than ever to use videos to inform your clients of the latest changes in your local real estate market.
In 2020, clients expect engaging visuals. Long PDF reports are NOT inspiring. In fact, you have to convey the message in the easiest way and we are here to help you make it happen​!
These videos change the way you share market reports with your network boosting your online exposure with easy-to-share links.
How Can you Get Access to Your Market Report Video?
In order to get access to your monthly market report videos, you need to Sign up for a FREE Roomvu account first. Read our step by step guide on creating a web profile account.
Downloading the Video
Click on Download video on the top right-hand corner of the video and a window will popup. Choose your plan (monthly/annual). Hit Subscribe Now and get the video.*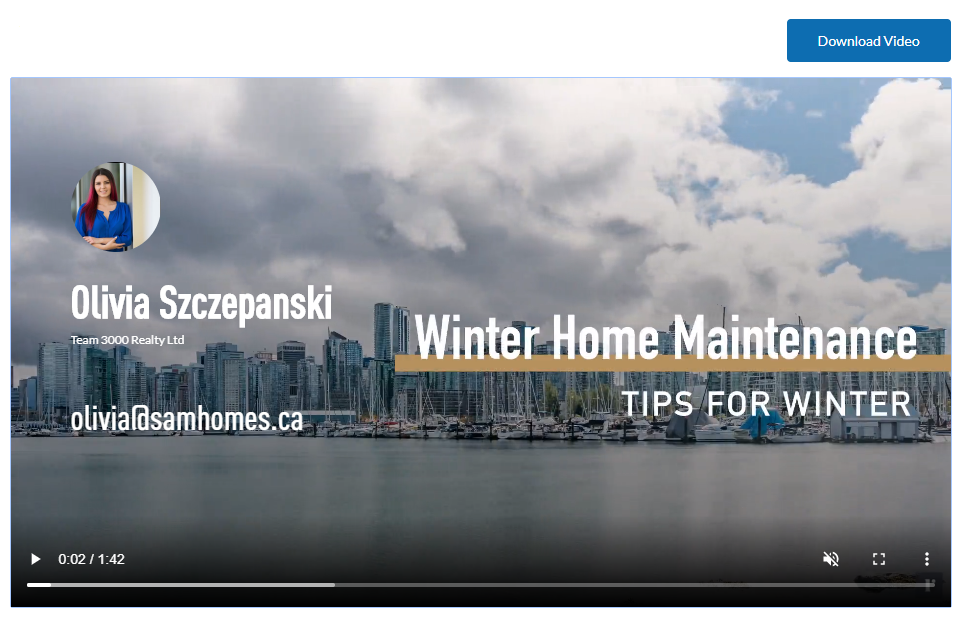 *The free trial period comes with the download option for unbranded videos. After this period, you can keep your free profile without the video. Downloading the branded video is only available for subscribed accounts. If you want to continue access to unlimited videos, download branded video and share your profile with the videos you can subscribe for $24.99/month. 
What Can You Do With Market Report Videos?
You can share your video on various social media channels or use it in your personal email campaigns. Check out any of the links below to get a step by step guide on how to use your market update video on social media channels or how to set up advertising for market report video on different channels:
Sharing Market Update Video:  Facebook, YouTube, Instagram, LinkedIn,  email 
Setting up paid advertising for Market Update Video: Facebook, Instagram, YouTube
What are the Benefits of Subscriptions to this Service?
Downloadable video with your branding
You can download the video and share it on social media channels or use it in your personal email campaigns. 
Video report for the Real Estate Board of a city of your choice
You will have the option to display a different video on your profile. You can choose to show a different report video customized with your branding.
Your video is published on YouTube
To enhance your online exposure, we will upload your video on YouTube so you get more eyeballs on your brand.
Compatible video file for Instagram
Your video will be shareable on Instagram if that's a better fit for your real estate brand.
Access to previous months' video archives
You will always have access to the previous videos. All you need to do is check your archives section and you'll be able to download/share your choice of video content whenever you need them.
Our free and premium services integrated with data analytics and automated marketing suites are made to help you inspire your clients, establish trust and differentiate yourself.
Sign up and start your free trial now.
---
Our History
Founded in 2017 and located in downtown Vancouver, Roomvu uses fringe technology to offer nine premium services to over 4,000 real estate agents across Canada. Roomvu's team of young professionals have expertise in real estate, marketing and business development. Visit Roomvu for more information.