LinkedIn has become one of the best social media tools for professionals and that includes realtors. Nothing says you are professional more than a LinkedIn profile where you can share and promote your real estate listings. After all, you never know who is looking for a new home: dentists, lawyers, financial advisors and more. 
Furthermore, uploading a video to your LinkedIn will increase the likelihood that your content will be liked, commented on or even shared. In this post, learn how to upload your real estate listing video or market update video to get more leads and increase your real estate brands following. 
How to Share your Market Update Video on your LinkedIn
There are two ways to share your video on LinkedIn. One is downloading the video from your Agent Web Profile to your device and then posting it on LinkedIn (uploading). The second option is copying the link from your profile and then posting it on LinkedIn. Here, we explain both so you can use them as you see fit.
Downloading the Video from Your Agent Web Profile
The web profile is a FREE alternative to the traditional agent website. In fact, Roomvu agent profile has every important feature that an agent would need if you were to get your own real estate website. You can upload your profile picture, include your tagline, your company logo, and much more! Sign up to get an account.
On your profile, you'll see that your Market Update Video with your branding is automatically uploaded. There is a three dot button on the bottom right corner of the video. Here, you can download* the video.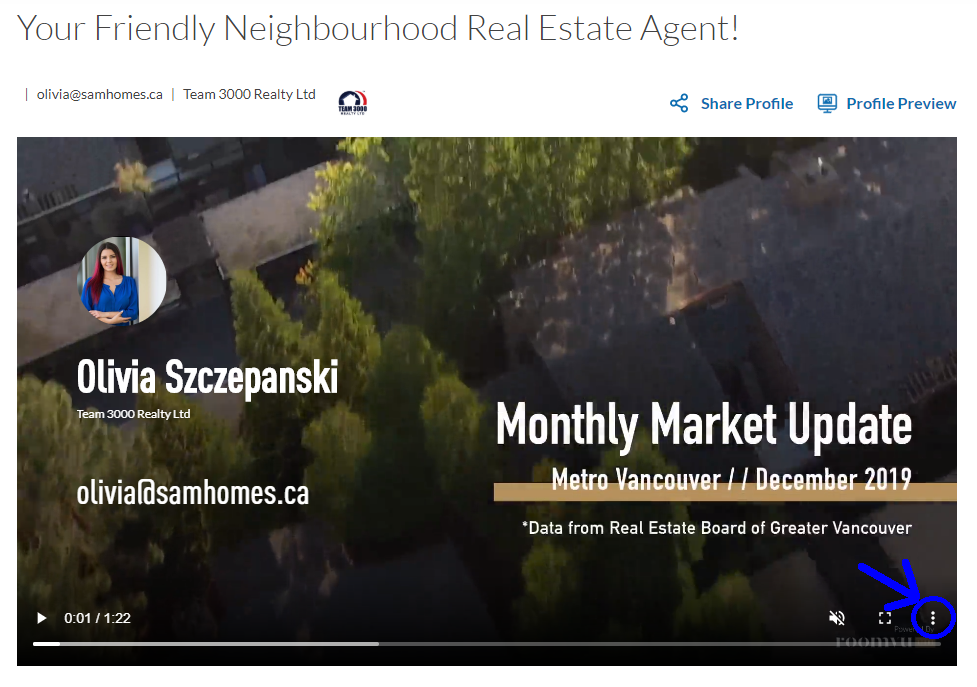 *The download option is free for the first 30 days. After this period, you can keep your profile for free but if you still want to download & share your new updated videos, you'll be asked to subscribe for $19.99/month.
Getting the Link from your Profile
Once on your profile, you'll see a blue Share Profile button on the top right corner of your market update video.

Clicking this button will open a box asking how you want to share your video. Copy the link and paste it in a LinkedIn post as described below.
To upload your market update video on your LinkedIn newsfeed:
1. Start a post.
Open your LinkedIn and click on 'Start a Post' if you are using your desktop.

Or if you are using your mobile phone, click the pencil editing button at the bottom of the screen.

2. Write your caption.
Write a caption about your market update video in the space provided. The idea is to be short and sweet but still informative and professional. 
*Pro-tip: Use hashtags like #Vancouver, #Marketupdate, or other relevant hashtags so that users who search for those keywords on LinkedIn find your post in that category.

3. Upload your video Or Use the Copied Link
After you add in your caption and hashtag, click the video icon to upload a video from your devices gallery. Alternatively, you can paste the link you copied from your profile. 
Pro tip: Putting an '@' sign in front of someone's LinkedIn username will tag them in that post. You can do this for specific people or organizations. For example @roomvu will tag Roomvu in the post considering that Roomvu has LinkedIn.

4. Post your video.
Lastly, hit post to post your market update video on your LinkedIn news feed. 

Here is an example of what your LinkedIn market update video post could look like once posted on LinkedIn.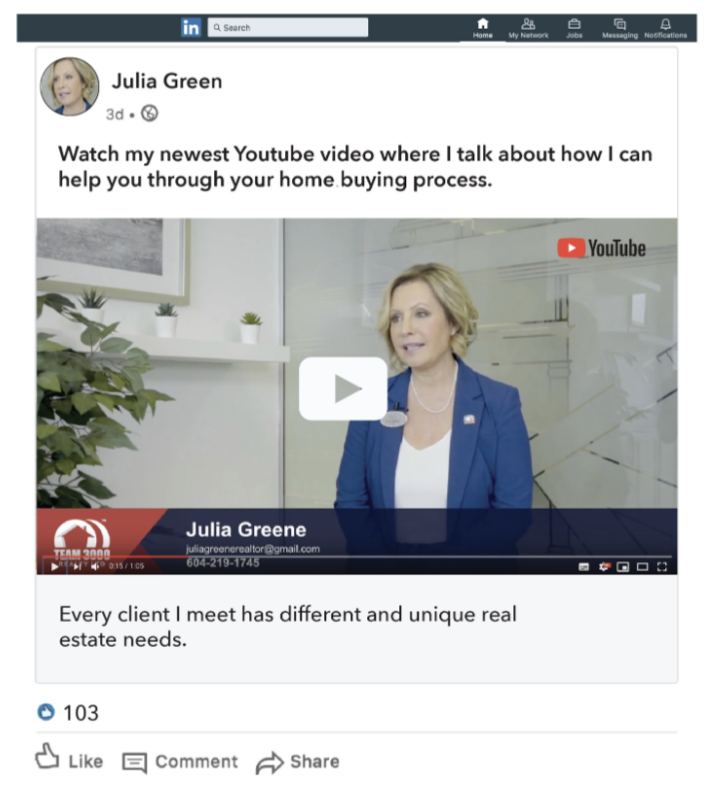 ---
Linkedin Resources
How to use LinkedIn for Real Estate