According to a 2018 National Association of Realtors study, 93% of realtors prefer to communicate through email. What this means for many realtors, is that is has become more important than ever before to not only create an email marketing campaign but to also make a GOOD email marketing campaign.
As we know, realtors (and many of today's demographic) are too busy to read a full email from start to finish. And if we do, we must be bored or strangely, have the time. For this reason, videos have become the main attraction in email as it helps to capture the attention of our target audience, that many words or long-texts cannot.
But once you have a video created, how do you use it in your email campaign? And most importantly, how do you embed it in your email campaign. 
6 Steps for using and embedding video in your email campaign:
1. Develop an email campaign strategy
What campaigns will you be sending, how often will you be sending these campaigns? How will you measure the success of these campaigns? See the example below.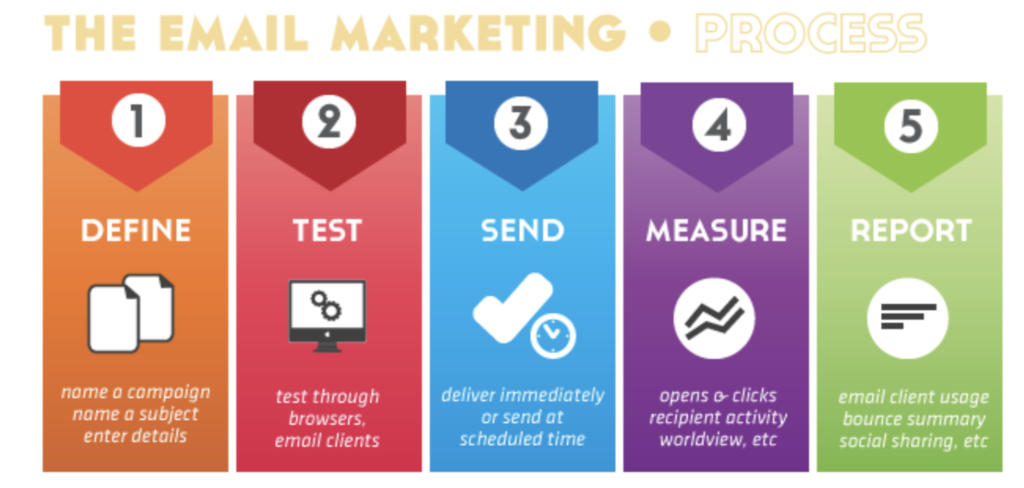 Source from: (Scott, 2019)
2. Gather contacts for your email campaigns.
Who are you going to send your emails to? Current clients, past clients, future prospects? Maybe it is that you have multiple email contact lists in which you send out entirely different email campaigns. To keep track of your email contacts list you can easily use a Microsoft Excel Sheet, Apple Pages, Google sheets or any other spreadsheet tracker. This is the best way to keep track of emails.
*Pro-tip: Separate each contact by the first name, last name, email address, and any other relevant fields. 

3. Create an email template in accordance with your branding.
There are many free email templates you can use. For instance, Canva has hundreds of email templates to choose from in their email template gallery.
4. Use the Link from your Agent Web Profile
The web profile is a FREE alternative to the traditional agent website. In fact, Roomvu agent profile has every important feature that an agent would need if you were to get your own real estate website. You can upload your profile picture, include your tagline, your company logo, and much more! Sign up to get an account.
Once on your profile, you'll see a blue Share Profile button on the top right corner of your market update video.

Clicking this button will open a box asking how you want to share your video. Copy the link and use it in your email campaign.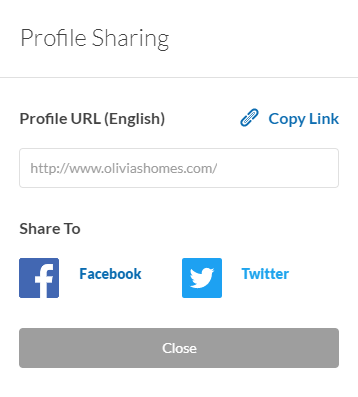 5. Embed your market update video directly into your email
By embedding your email campaign (and other related content that conveys your message) right in your email, your clients can view the video and content directly within their email without having to click on external links. 
Downloading the Video from Your Agent Web Profile
On your profile, you'll see that your Market Update Video with your branding is automatically uploaded. There is a three dot button on the bottom right corner of the video. Here, you can download* the video.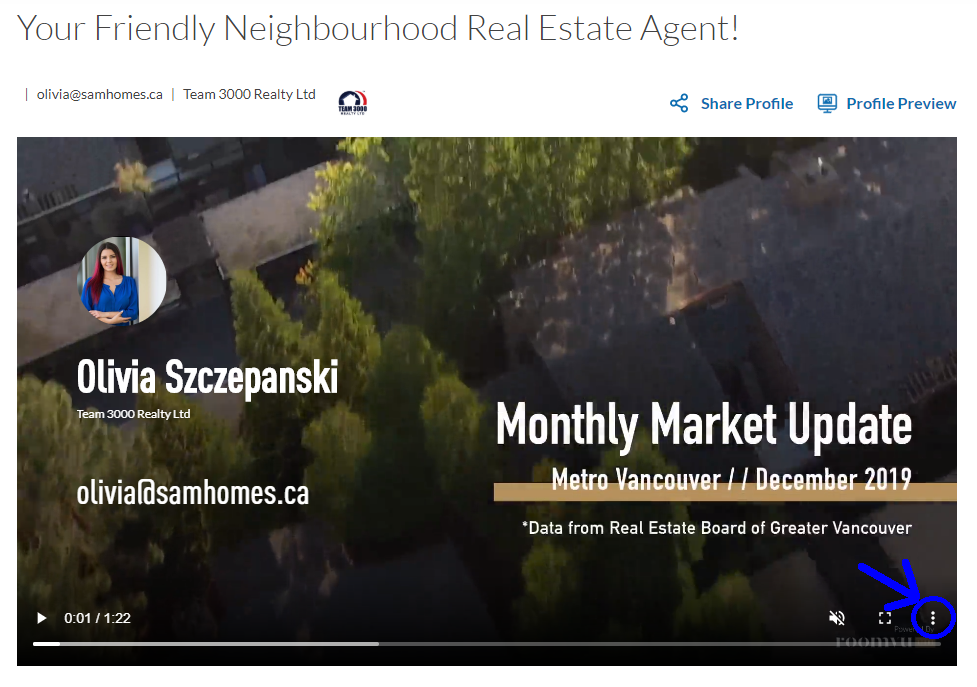 *The download option is free for the first 30 days. After this period, you can keep your profile for free but if you still want to download & share your new updated videos, you'll be asked to subscribe for $19.99/month.
To embed this video in your email template either:
Use a template that embeds the video for you (

Canva

has many options and a tutorial on

how to embed a video

using one of their templates).

Or follow these easy steps on

how to embed a video in your email

using Gmail or Outlook.
This is what your market video email template could look like once you have embedded your market update video into your email.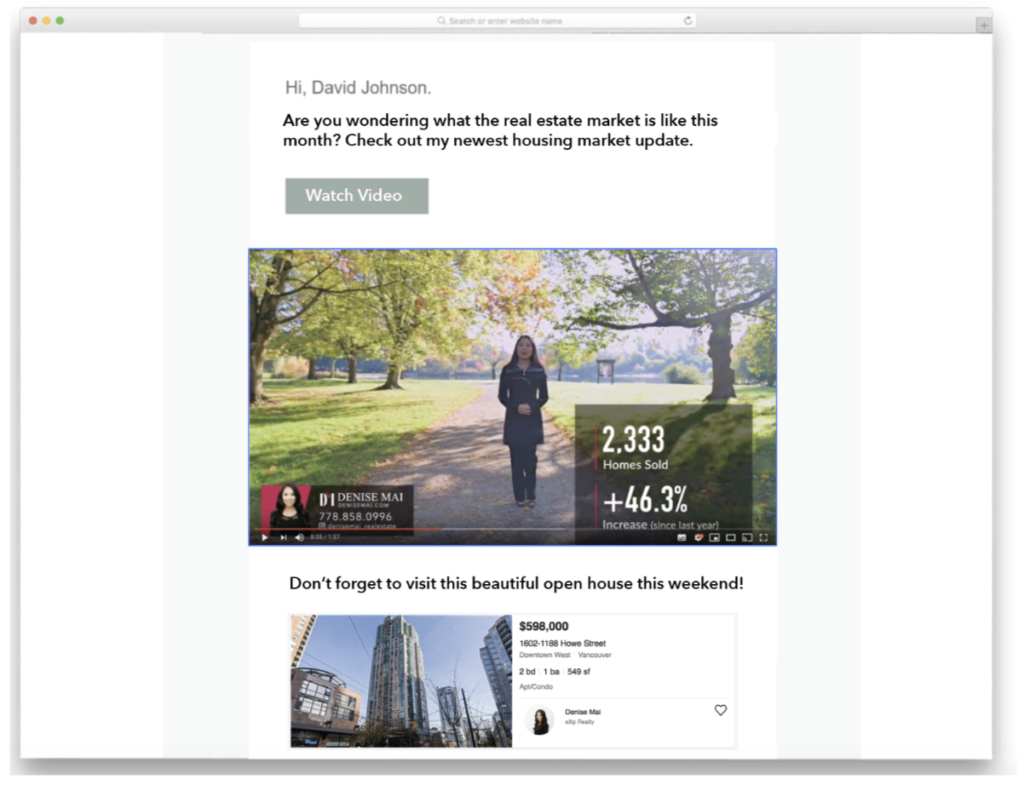 6. Check your email campaign reports and take action through follow up emails
To check your email campaign reports, there are many different types of analytics plug-ins you can use. Such as Mailtrack a Google Chrome plug-in for Gmail, Microsoft My Analytics for Outlook, Mailbutler for Apple or Google mail or even Google Analytics .
Use these online tools to see how many of your recipients are receiving your emails, opening your mail and more. This way you can make appropriate changes to your email campaigns and more.
Want more real estate related content?
Subscribe to our blog: www.roomvustore.com/blog
---
References: 
National Association of Realtors, 2018. Real Estate in a Digital Age 2018 Report.
Scott, 2019. How to create a great email marketing campaign strategy.