It is important for a real estate agent to maintain an online presence during this digital age, but did you know that instead of paying hundreds of dollars each month for a website, you can have an Agent Web Profile for free?
Just like a personal real estate website, Roomvu's agent web profile contains all the important tools that agents need for their business. You can upload your profile picture, include your tagline, your company logo, and much more!
Your web profile will automatically show your entire sales record! It will also show your current, sold and brokerage listings.
How Does the Agent Web Profile Work?
Here's a step by step guide on creating and using your profile. Watch the video or read the description below to get more information about how to use your agent web profile and unlock the features.
1. Sign Up
Once you sign up, you will be asked to search your name as registered with the MLS board. Choose the correct match from the list and click on Select. Then you'll be sent an email or text message to activate your profile.  Open your email/message and confirm.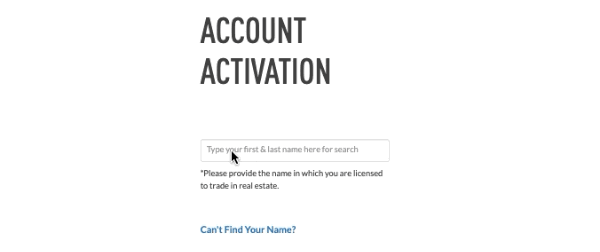 Notes:
Make sure you choose the one with the correct information if more than one shows up.

If you can't find your name, click on "

Can't Find Your Name

"  and fill out the Manual Subscription Form. Hit submit once you're done.

You won't be able to log in until you confirm in your email account.

If you've already registered with roomvu, you can

enter your email and password on the

login page

.
2. Set Up the Profile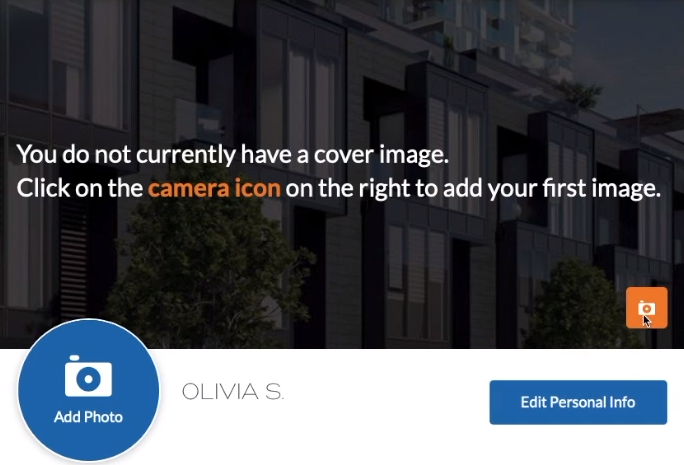 The first time you arrive on this page, you won't have a cover image or a profile photo. You will need to customize your profile as you see fit. By clicking on the orange camera button on the right-hand side, you can upload your profile cover photo. Selecting the blue camera will allow you to add your profile photo. 
Click on the Edit Personal Info to add your slogan, write more about yourself, add personal/team website, upload your company logo, and also choose the cities you would like to search.

3. Maximize Exposure with the Profile Video

Your profile Market Report Video with your branding is automatically uploaded.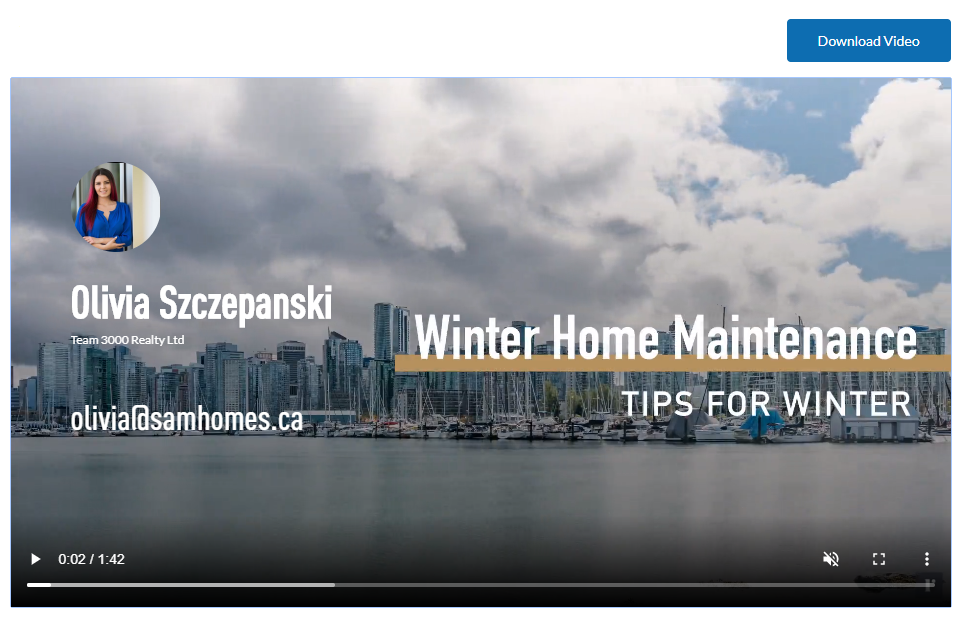 Select What Videos to Display
You have the option to display a different video on your profile. Videos are updated monthly.

Downloading the Video
Click Download video on the top right-hand corner of the video and a window will popup. Choose your plan (monthly/annual). Hit Subscribe Now and get the video.* Here, you can download the video and share it on various social media channels or use it in your personal email campaigns. Check out any of the links below to get a step by step guide on how to use your Market Update Video on social media channels or how to set up advertising for Market Update Video on different channels:
Using Market Update Video:  Facebook, YouTube, Instagram, LinkedIn,  email 
Setting up paid advertising for Market Update Video: Facebook, Instagram, Youtube
*The free trial period comes with the download option for unbranded videos. After this period, you can keep your free profile without the video. Downloading the branded video is only available for subscribed accounts. If you want to continue access to unlimited videos, download branded video and share your profile with the videos you can subscribe for $24.99/month. 
4. Edit Specialization
Click on Edit Specialties and add/remove the specialties that best represent you. If you don't see something you want to be added, type it in the search bar and click add. Click Save once you're done.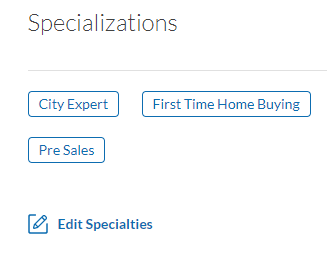 5. Add Testimonials
Under Add Testimonial, click on the plus button and fill out the form. Here, you can enter your client's name, choose whether they are a buyer or a seller and also type in the Testimonial text. Click Save once you're finished. Please note that we have a 400-word limit. 

6. Check Your Current Listings
Your current listings will be updated automatically: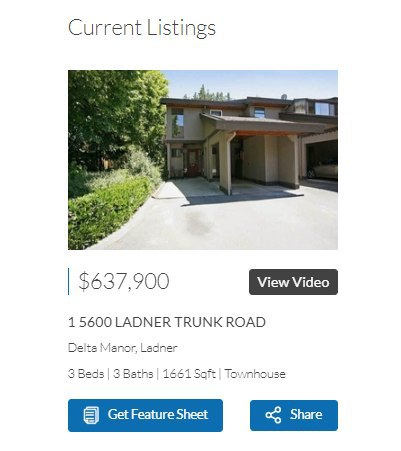 Choosing any of your listings will open another window showcasing a video slideshow of that specific listing with the relevant information. For each of these listings, you'll be provided with an open house feature sheet as well. This is a downloadable PDF you can use in your open houses and email campaigns. Read our step-by-step guides on video slideshow and open house feature sheets and learn more about these free features on your profile.
7. Your Brokerage Listings
Here, you can see your brokerage listings. If the wrong brokerage is shown, please do not hesitate to let us know and we will update your listings in 1-2 business days.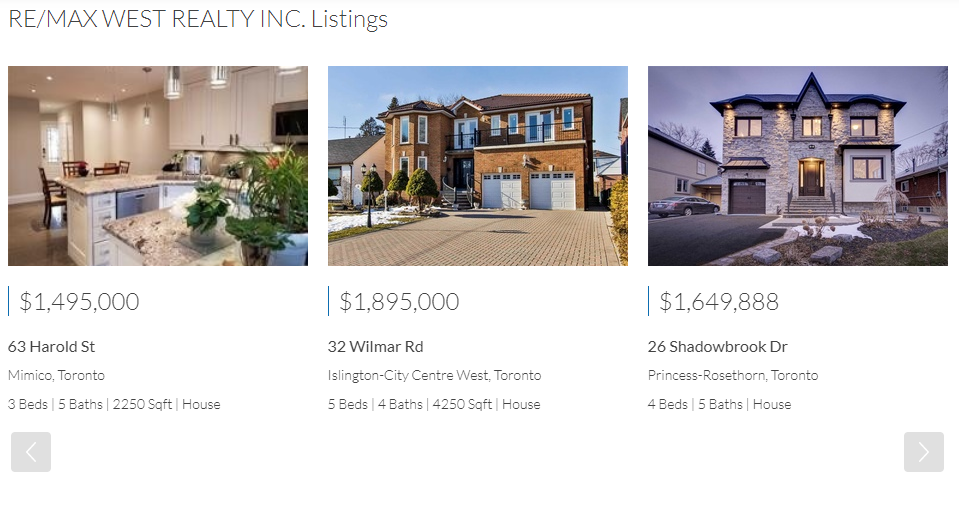 8. Share Your Profile
Once you've updated all the information, you can share your profile on various digital platforms such as social media or use it in your email campaigns. 
Click Share Profile. You have the option to share it directly on social media (Facebook and Twitter) or just copy the link and share it as you wish. Your video is only available to your network via this link. 

9. Change Your Profile Settings
You can get access to your profile settings by clicking your name on the top right corner. Here, you can change your account information such as your Name and Email, password, edit and set up your notifications and select you would like to receive statistics on which properties.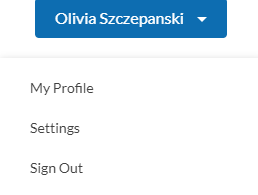 Don't forget that at any stage, you can use the pop-up help window on the bottom right-hand side of the page. Support is online to assist you with any questions.
10. Preview Your Profile
Clicking on this button will open another window where you can view your profile as a client. This allows you to see the final changes and see how it looks from a client's perspective.

Provide Your Visitors Real Value and Convert them to Leads
There are so many lead generation products on the market but your roomvu profile is NOT one of them. Roomvu profile is here to help you provide value to the customers so you can convert them to clients easier.
Here's a list of the profile features that will assist you in building an effective online presence, credibility and trust.
I. Contact Us
As you can see on your preview page, your profile visitors will be encouraged to contact you via the provided forms: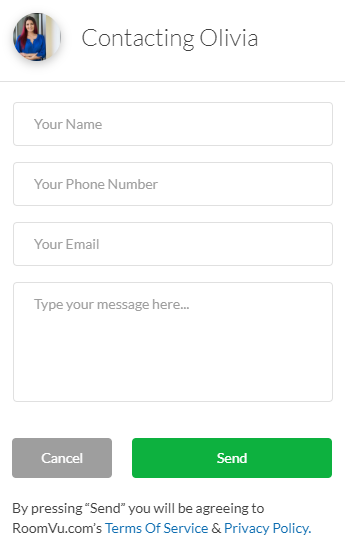 Once a potential lead fills out a contact form, you'll be notified with an email.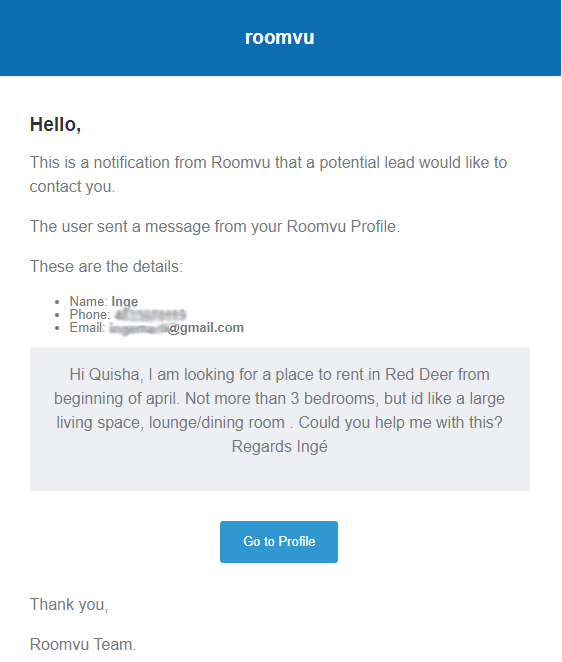 Use this lead capturing feature to qualify leads and get one step closer to the clients.
II. Home Evaluation
This feature is enabling your profile visitors to evaluate how much their home is worth.

By clicking on Find out now, they'll be taken to another lead capturing landing page.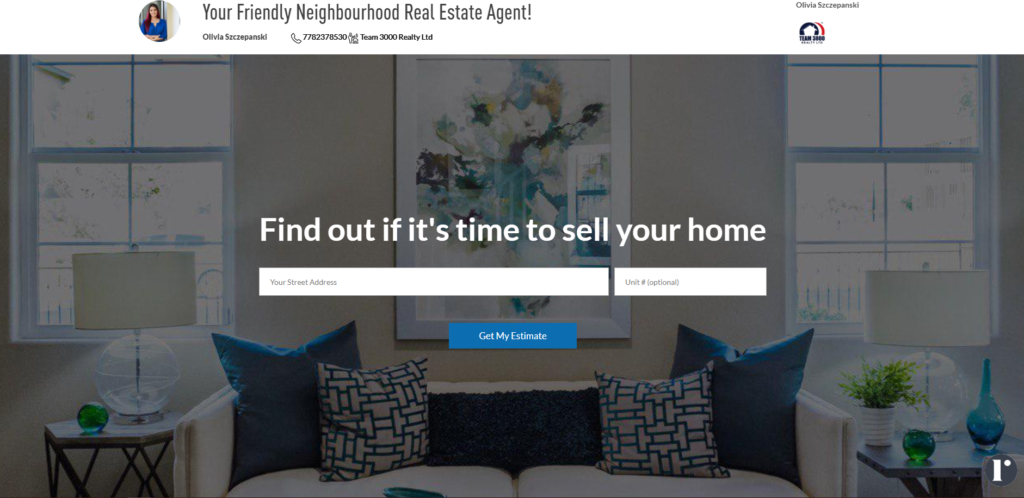 By entering their address and hitting Get my Estimate, you'll receive an email (see below) with the visitor's information: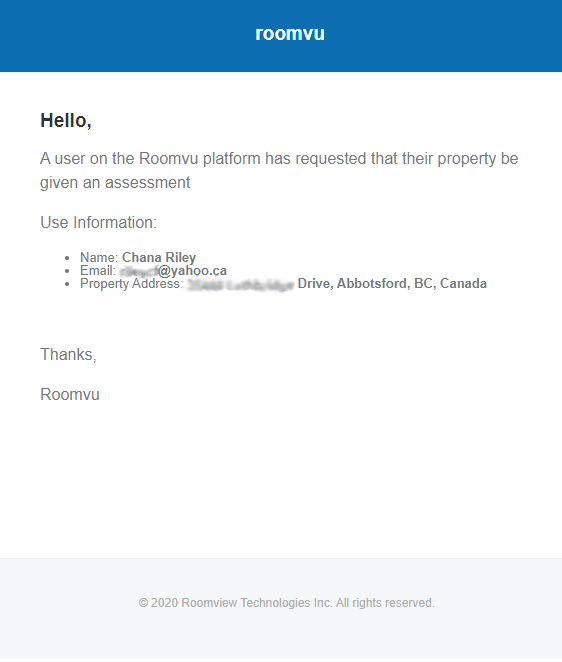 This is another opportunity to convert visitors to leads. Contact them to see how they can benefit from your expertise.
III. Quick Property Search

Once your profile visitors type their desired property ID, address or postal code, they will be provided with a similar page (see below) where they can get more information about the listing or they can search for homes.

IV. Search Properties by the City Name
Your potential clients are searching to find their favorite property. Your profile's feature allows visitors to find the property they want with your branding.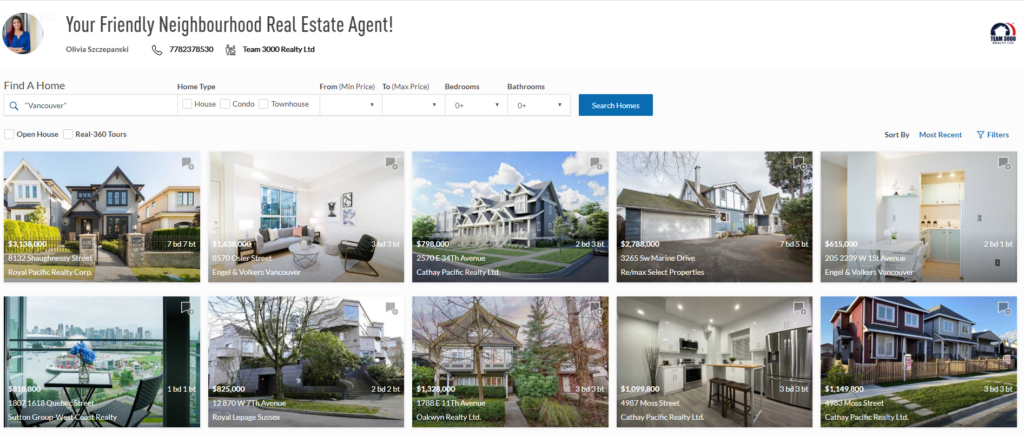 V. Browse Hot New Listings
This is another feature providing value to your leads.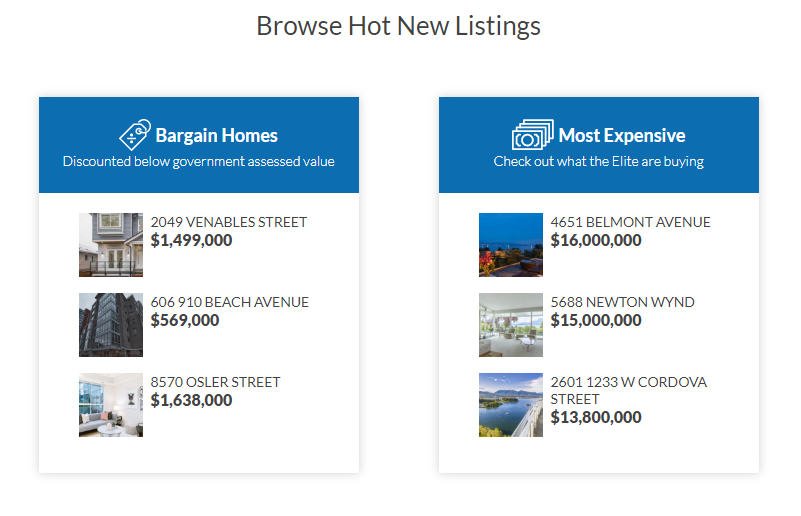 Roomvu wants to keep the interested visitor to stay on YOUR real estate landing page, that's why all landing pages have your branding.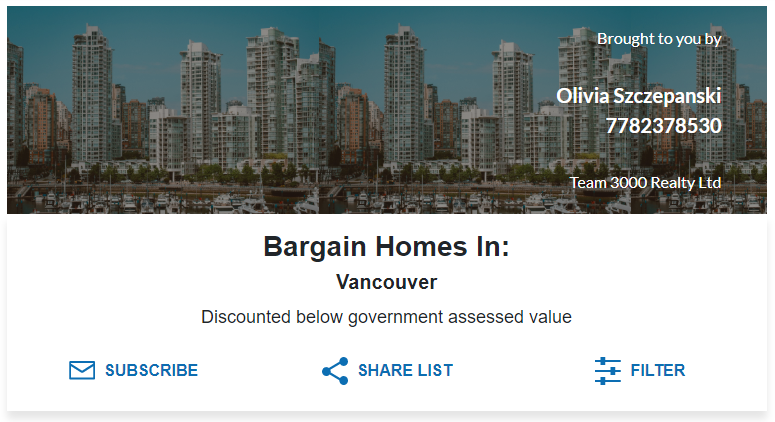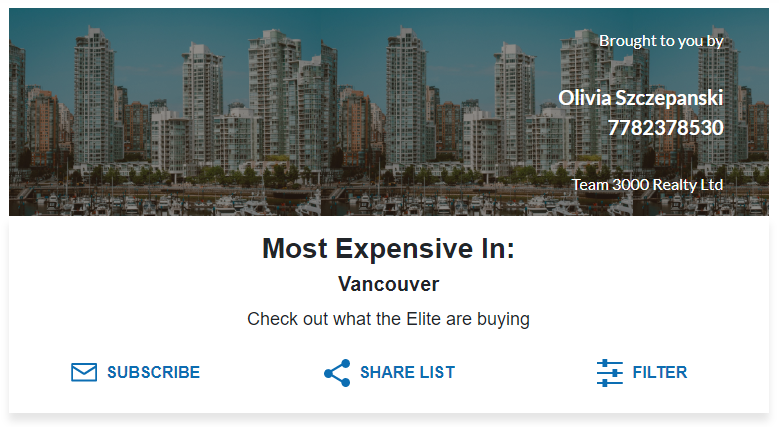 As you see in the photo above, your leads can share the list with their network too. This gives them a reason to keep in touch with you because you are providing real value to them.
By establishing an effective online presence and building credibility, you will strengthen your real estate brand and get more sales as a result. Our free and premium services integrated with data analytics and automated marketing suites are made to help you inspire your clients, establish trust and differentiate yourself.
Sign up and start your online journey now.
---
Our History
Founded in 2017 and located in downtown Vancouver, Roomvu uses fringe technology to offer nine premium services to over 4,000 real estate agents across Canada. Roomvu's team of young professionals have expertise in real estate, marketing and business development. Visit Roomvu for more information.